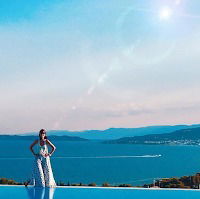 Hi everybody
this is Vicky and I want to
welcome
you to
villa Thalia
Floating Heaven.
Porto Cheli,
was
love
at first sight for me. I kept returning until I decided to buy a land here. When I first visited the hilltop, the
captivating beauty
of nature could not be described with words.
It felt like I was
floating
on top of the world
.
The super talented
architecture
Yannis Kouvdos
designed the house
in a way for it to be in constant contact with the
panoramic view
, and named it
Thalia:
The
Muse of Comedy and Poetry,
for people to
laugh and to have
happy moments.
Experience the
unique feeling of becoming
part of the nature
and floating
on top of the world
.
Book any time of the year. Each season has its own magic!
Big kiss
Vicky
Villa Thalia • Porto Cheli • Greece • The love we share
Copyright © 2020 Villa Thalia Floating Heaven, All rights reserved.